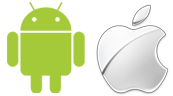 We have completed converting our content to run on all modern HTML5 platforms, including iOS devices such as iPads and iPhones, Android devices, and of course your desktop computers and laptops too.
There is no requirement to download a special App. The HTML5 version will run in any modern browser, and on any modern device.
In time, the HTML5 version will replace the Flash-based program.