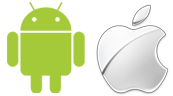 We are currently converting our content to run on all modern HTML5 platforms, including iOS devices such as iPads and iPhones, and Android devices.
There is no requirement to download a special App. The HTML5 version will run in any modern browser, and on any modern device.
All videos, worksheets and lesson summaries are now available in the HTML5 version, as is the ability to submit your answers to the worksheets. For high school students this entails the entire program.
Interactive questions and diagnostic tests are currently unavailable in the HTML5 version but will be rolled out in the first half of 2013.
In time, the HTML5 version will replace the Flash-based programs.